Aleksandra Buha Đorđević, PhD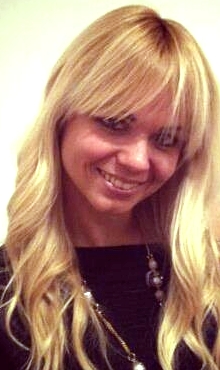 Position: assistant professor
Organizational unit: Department of Toxicology "Akademik Danilo Soldatović"
Address: Vojvode Stepe 450, 11221 Belgrade, Serbia
Room: A106
Phone: +381 113951 248
Fax:
Email:aleksandra@pharmacy.bg.ac.rs
Aleksandra Buha, born in 1984, graduated at the Faculty of Pharmacy, University of Belgrade in 2009 with the average grade 9.68/10. During her undergraduate studies she had the Scholarship of the Ministry of Education of Republic of Serbia, Scholarship of the City of Belgrade for talented students and Scholarship of the Foundation for Support of Young Scientists and Artists. In 2014 she completed postgraduate academic specialization Toxicological Risk Assessment for Environmental Pollutant. She defended her PhD entitled "Toxic effects of prolonged exposure to cadmium and/or polychlorinated biphenyls in rats" in 2016. Her research interests are toxicology of metals, toxicology of persistent organic pollutants, toxicology of mixtures, risk assessment, etc.
She has been working as teaching and research assistant at the Department of Toxicology since October 2009 and actively participates in the preparations and implementations of undergraduate practical classes for the subjects: Toxicology, Human Health Risk Assessment, Acute Drug Poisoning, Clinical Toxicology with Analytics, Ecotoxicology, Free Radicals and Antioxidants-Laboratory Analyses, Substances of Abuse. She also participates in the practical classes of the subjects of the study program Toxicological Risk Assessment for Environmental Pollutants (Specialist academic studies).
Since 2011 she has been involved in the national project "Chemical contaminants of food" funded by Ministry of Science and Technological Development, Belgrade, Republic of Serbia.
Throughout 2012, 2013 and 2014 she obtained scholarships from NATO Science for Peace and Security Advanced Study Institute, Karolinska Institutet (Stockholm, Sweden), European Society of Toxicology and European Training Programme in Safety Sciences in Medicines. During this period she also finished more than 15 courses in different fields of toxicology as well as in different academic and research skills. In 2015 she was a visiting Scholar at MRC Human Nutrition Research, Elsie Widdowson Laboratory, Cambridge, UK.
Up-to-date, Aleksandra Buha has published 3 book chapters, 8 papers in international, 4 papers in national journals, and more than 50 abstracts presented on international and national meetings.
She is fluent in English (Cambridge Certificate in Advanced English).
Buha A, Antonijević B, Milovanović V, Janković S, Bulat Z, Matović V. Polyhlorinated biphenyls as oxidative stress inducers in liver of subacutely exposed rats: Implication for dose-dependence toxicity and benchmark dose consept. Environ Res. 2015, 136: 309-17.
Buha A, Antonijević B, Bulat Z, Jaćević V, Milovanović V, Matović V. The impact of prolonged cadmium exposure and co-exposure with polychlorinated biphenyls on thyroid function in rats. Toxicol Lett 2013, 221: 83-90.
Buha A, Vaseashta A, Bulat Z, Matovic V. (2013) Carboxyhemoglobin in Blood of Smokers and Non-smokers Determined by Gas Chromatography with Thermal Conductivity Detector In Advanced Sensors for Safety and Security, Vaseashta, Ashok; Khudaverdyan, Surik (Eds.), 161-168, Springer Netherlands.
Matović V, Đukić-Ćosić D, Buha A, Bulat Z. (2013) Route, Dose and Duration of Exposure to Cadmium-Relevanceto Oxidative Stress Induction In Peroxidases, Bogaert Lucas and Coppens Noah (Eds.), 161-175, Nova Science Publisher, USA.
Buha A, Milovanović V, Antonijević B, Bulat Z, Matović V. (2013) Relative Liver Weight in Rats Subacutely Exposed to Polychlorinated Biphenyls In Environmental Security Assessment and Management of Obsolete Pesticides in Southeast Europe Simeonov, Lubomir I.; Macaev, Fliur Z.; Simeonova, Biana G. (Eds.), 287-294, Springer Netherlands.
Buha A, Bulat Z, Đukić-Ćosić D, Matović V. Effects of Oral and Intraperitoneal Magnesium Treatment against. Cadmium-Induced Oxidative Stress in Plasma of Rats. Arh Hig Rada Toksikol 2012, 63: 247-54.
Matović, V, Buha A, Bulat Z, Dukić-Ćosić D, Miljković M, Ivanišević J, Kotur-Stevuljević J. Route-dependent effects of cadmium/cadmium and magnesium acute treatment on parameters of oxidative stress in rat liver. Food Chem Toxicol 2012, 50: 552-7.
Bulat Z, Đukić-Ćosić D, Antonijević B, Bulat P, Vujanović D, Buha A, Matović V. Effect of magnesium supplementation on the distribution patterns of zinc, copper and magnesium in rabbits exposed to prolonged cadmium intoxication. ScientificWorld Journal 2012, 9 pages, doi:10.1100/2012/572514
Matović V, Buha A, Bulat Z, Đukić-Ćosić D. Cadmium toxicity revisited: Focus on oxidative stress induction and interactions with zinc and magnesium. Arh Hig Rada Toksikol 2011, 62:65-76.
Save
Save