Andrijana Milošević Georgiev, PhD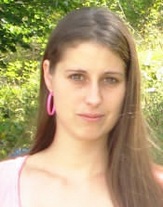 Position: Teaching Associates
Organizational unit: Department of social pharmacy and pharmaceutical legislation
Adress: Vojvode Stepe 450, 11221 Belgrade, Serbia
Room: Centre for pharmacy practice development
Phone: +381 113951 313
Fax:
Email: andrijanam@pharmacy.bg.ac.rs
Andrijana Milošević Georgiev was born on June 10, 1981 in Kruševac. She graduated from the Faculty of Pharmacy in Belgrade and gained a degree graduate pharmacist - medical biochemist. She is currently employed by the Faculty of Pharmacy in Belgrade as a teaching assistant at the Departmant of Social Pharmacy and Pharmaceutical Legislation where she is involved in conducting practical training within integrated academic studies in the following subjects: Pharmaceutical practice, Pharmaceutical law and ethics, Ethics and legislation, Basics of pharmaceutical management, and Basics of health care management. She is currently enrolled at doctoral studies at Social pharmacy and pharmaceutical practice exploration module and at specialist academic studies for health care purpose at Social Pharmacy Programme. She graduated from specialist academic studies in Pharmaceutical marketing and management programme. She also contributes as an associate to the projectof Ministry of Education, Science and Technological Development of the Republic of Serbia within the basic research programme "Biomarkers of organ damage and dysfunction"
Research interest: public health, quality in pharmacy, ethics and legislations, history of health care.
Milošević Georgiev A, Krajnovic D, Milovanović S, Ignjatović S, Đurić D, Marinković V. Analiza razvoja regulatorno-etičkog okvira za klinička ispitivanja. Srp arh Celok Lek. 2013; 141(9-10):659-66.
Krajnović D, Arsić J, Jocić D, Milošević Georgiev A, Tasić Lj, Marinković V. Evaluation of Pharmacists' Knowledge and Attitudes Regarding Rare Diseases and Orphan Drugs. Acta Medica Medianae. 2013; 52(2):23-32.
Krajnović D, Jocić D, Milošević Georgiev A. Etika u savremenoj farmaceutskoj praksi. Zdravstvena zaštita. 2013 (1): 88-99.