Valentina Radulović, PhD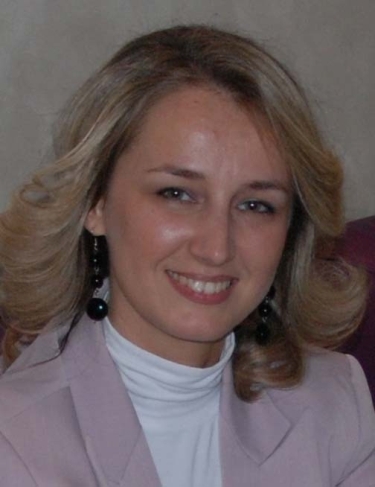 Position: Teaching Assistant with PhD
Organizational unit: Department of Analytical Chemistry
Room: object A, 2nd floor
Telefon: +381 11 3951 271
Fax:
E-mail: vkokanovic@pharmacy.bg.ac.rs
Valentina Radulović was born in Paraćin on January 27th, 1978. She received Vuk's award in primary and high school. She graduated at Faculty of Pharmacy in 2004 with final examination in Analytical chemistry. After graduating the faculty, she completed the training in pharmacy and passed exam for pharmacists in Ministry of Health, Republic of Serbia in 2005.
She was employed as an assistant at Department of Analytical Chemistry, Faculty of Pharmacy in Belgrade from 2004 to 2008. In 2008 she was pronounced as a teaching assistant. She is a PhD student of Pharmaceutical Chemistry at Faculty of Pharmacy, University of Belgrade from 2007/2008. She is reelected in 2012.
At Department of Analytical Chemistry, she participates in realization of laboratory practice for three subjects: Analytical Chemistry 1, Analytical Chemistry 2, Analytical Chemistry in Pharmaceutical Practice. Students' course evaluations were graded with mark of 4.90. She was a member of committee for 35 final examinations.
She participates in project No. 172033: Synthesis, quantitative structure-activity relationship, physical-chemical characterization and analysis of pharmacological active substances, Faculty of Pharmacy, financed by Serbian Ministry of Education, Science and Technological Development for period of 2011-2014.
She speaks English language.
M.M. Aleksić, V. Radulović, V.

Kapetanović, V. Savić, The possibility of simultaneous voltammetric determination of desloratadine and 3-hydroxydesloratadine. Acta Chimica Slovenica 57 (2010) 686-692.

M.M. Aleksić, V. Radulović, N. Lijeskić, V. Kapetanović, Electrochemical response and determination of varenicline at boron doped diamond, glassy carbon and hanging mercury electrodes. Current Analytical Chemistry 8 (2012) 133-142.
V. Radulović, M.M. Aleksić, V. Kapetanović, An electrochemical study of the adsorptive behaviour of varenicline and its interaction with DNA. Journal of the Serbian Chemical Society 77 (2012) 1409-1422.
V. Radulovic, M. Aleksic, D. Agbaba, V. Kapetanovic, An Electroanalytical approach to brimonidine at boron doped diamond electrode based on its extensive voltammetric study. Electroanalysis 25 (2013) 230-236.
Mara M. Aleksić, Valentina Radulović, Danica Agbaba, Vera Kapetanović, An extensive study of electrochemical behavior of brimonidine and its determination at glassy carbon electrode. Electrochimica Acta 106 (2013) 75-81.